I joined REACH Strategies primarily because of the firm's passion for sustainable social change. I never expected that three weeks into the job, I'd get an electric car too.
This fortuitous intersection occurred in July of this year, when after months of being unemployed due to the pandemic (and trying to connect with my inner child through a variety of art projects, along with serial walks in the Berkeley hills and baking of all kinds), I got a job at REACH Strategies. The opportunity to work for a cause-based communications firm was a real high. 
My brother used my new job as an excuse to buy a new Tesla, and I became the lucky recipient of his 2016 VW eGolf. The eGolf arrived from LA with piles of sand all over the interior and an exterior that hadn't been washed in months (thanks, bro! Could I really complain though? I just got a free car…). I immediately drove it to the solar car wash, detailed it, and next headed to the nearby Whole Foods to charge it while I picked up a few things.
My First EV Adventure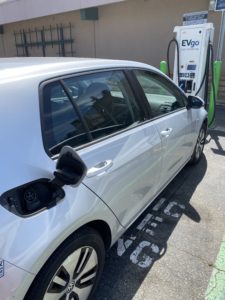 When I parked at the charging station at Whole Foods, I realized I had no idea how EV charging works. I was about to call my brother for charging tips when a guy pulled up right next to me in the exact same car! I felt a bit embarrassed to ask him for help, but soon realized he was as excited to tell me about our shared car as I was to learn about it. He walked me through the charging steps:
Download the EVgo app (lower rates on charging when you have the app)

Back your car up to the charging station (easier than untangling charging cords)

Choose the DC 2 charger for the fastest charging

Pick the charging cable labeled CCS, not CHAdeMO since that's what matches the outlet on the eGolf

Pull out the plastic cover on the plug outlet on the car

Wait for the click when you plug the EV charger into the car

Look for the light next to the charging outlet on the car to go on to indicate charging is happening

Only charge to 80% (better for battery health and longevity)

Need to unlock the car in order to be able to disconnect the plug from the car
He even treated me to my first EV charge – a grand total of $1.30 for a 5% charge. (I was already at 75% when I started…). We chatted a bit more about his eGolf and how much he loves it. He bought it new and has been driving it for 5 years. He's never had to do any maintenance on it – same tires, same brakes as original. He commutes about 70 miles to work during the week and stops at Whole Foods for a quick charge as part of his commute. He and his wife also own a Tesla for longer trips.
He also taught me some important EV etiquette: once the car is charged, move to a non-EV parking spot before going into a store to shop. That way, the charger is ready for the next EV driver. 
Helpful Drivers Aplenty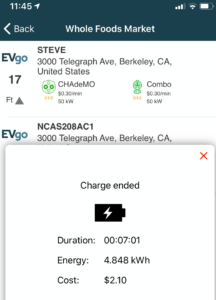 Apparently, it's common for EV drivers to help each other out like this friendly guy helped me. I experienced this for a second time when I went back to Whole Foods for my second charge (first charge on my own…). I arrived excitedly to successfully charge with all the knowledge I now had and backed the car up to the charger. 
I tried starting the charger but it wasn't working properly – it said it wasn't syncing with my car. As I was struggling to figure it all out, a nice woman drove up in her Nissan Leaf to charge at the charger next to me. She noticed my frustration and offered to help immediately. She spent about 5 minutes with me walking through what I had done so far and unfortunately couldn't figure out the issue. But, she suggested I call the EVgo 800 number which I did and quickly reached someone who was able to start my charging remotely via my email address and name of charger (STEVE). I was at 55% charge and told her I wanted to stop at 80% charge. $2.10 and a couple minutes later…I was ready to be on my way!
Breaking Down Barriers to Becoming An EV Driver
When I bought my 2015 Mazda CX-5 3 ½ years ago, I originally was leaning toward an electric car but naively thought EVs were too complicated. I convinced myself I needed a home charger at my apartment and couldn't figure out how to make that happen easily and affordably. I now realize that an EV is just as easy as a gas car, if not more so given that they require far less maintenance because of fewer moving parts.
I also thought I needed the cargo space of a small SUV for all my paddleboarding and tennis gear, but it all fits perfectly in the trunk of my eGolf. For my weekly errands and visits with local friends, I don't need more than the 90-100 mile range my eGolf gets on a single charge. For longer trips, I can always rent a plug-in hybrid or just add a few charging stops along my route — which I've learned is super easy to do with "find an EV charger" apps like Plugshare. 
Charged Up and Ready To Go!
I'm excited about working at REACH Strategies to educate more people to the benefits of EVs and how easy they are to own. They can also be super peppy and fun to drive. I don't see myself ever buying a non-electric car again. 
So grateful I've had two things to fall in love with during the pandemic – a career with a cause and a car with a battery.