Hello, hello! I'm Elisha Taasin, a Communications and Event Specialist with REACH Strategies. I have a background in the world of marketing, but I am much happier for the change of pace in switching to a more communications-based role. I joined the REACH team in October of 2021, and I feel so lucky to be able to work with a team of incredibly brilliant, passionate, and like-minded people that make working together so delightful.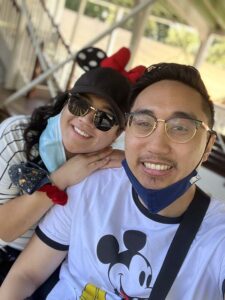 I am a California girl, through and through, born and raised in Stockton, CA. I spent a few years in the Bay Area while attending San Jose State University, where I majored in Communication Studies. While I love to explore, I don't think I could ever picture myself living anywhere outside of my home state. Though, I have spent several months throughout my childhood living in the Philippines, where I picked up both chickenpox and a new language along the way. I love being only a few hours from the beautiful Lake Tahoe, the beaches in San Luis Obispo, or my personal favorite road trip spot: the oh-so-magical Disneyland where I spend way too much money on merchandise and churros every single time. 
Traveling and making plans to look forward to is a big part of what brings me joy in life. Though the pandemic has taken a lot of opportunities for new experiences away, I've learned over the last few years–as cliche as this may sound–to be grateful for the little things in life. While everyone has experienced a rollercoaster of stir-craziness since 2020, I feel like I've been living through the pandemic since 2018: the year I was diagnosed with breast cancer.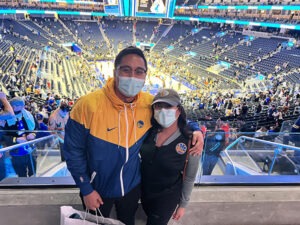 Being diagnosed with breast cancer was one of the most shocking and difficult times of my life. It all feels like such a haze now, almost like it never happened. It humbled me in ways that I never knew I could be humbled, and it gave me a new appreciation for life and so many people and things in it. I took things one stride at a time; I listened to Britney Spears as I shaved my head and reminded myself that if she could get through 2007, I could get through my own tough time. Like a phoenix, I felt reborn after completing a handful of surgeries, twelve rounds of chemo, and my new normal (not to mention all of the funky hairstyles that I had while growing it out!). 
And so that brings me here: a little older, a little wiser, in remission for three years and counting, and looking forward to what life throws at me now that I have learned that I am stronger and more resilient than my mind can ever limit me into thinking. I look forward to the challenges and opportunities that will come to me while simultaneously throwing up a peace sign throughout every obstacle.