I am a lifelong learner. For most of my life, I thrived on developing new skills and always looked forward to the future. And my favorite question to ask myself – what's next?
I consider myself the Jill-of-all-trades, master of none. Because I like to do a little bit of everything, I don't really become an expert in anything. My passion is learning something new and willing to experience something different. I've taken cooking, ceramics, piano, golf, writing, volleyball and even knitting lessons.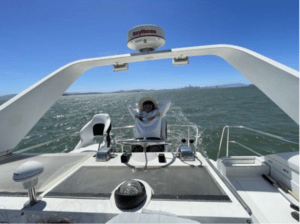 I used to get discouraged because I thought I needed something to stick to. But what I realized was it was not about the skill — I just enjoyed learning. I was content with the level of skill I knew and was ready for the next. Through these experiences, there were a few things I did master — the ability to be agile and adaptable.  
The challenge of learning something new allows me to keep an open mind, maintain a positive attitude and embrace change. This mindset invites future possibilities – such as learning boating and sailing (my new skill) and being ready for the ever-evolving dynamic nature of the world.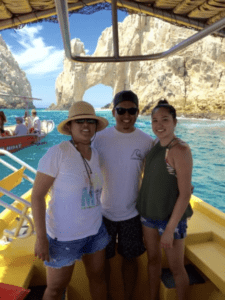 I have been fortunate enough to grow up in the San Francisco Bay Area, where there is plenty of diversity and opportunities for learning. And most importantly, easy access to traveling anywhere in the world. I have a very large family and spend time with friends I grew up with and friends I've made along the way. I have two children, Justin and Alexis, and we have a curious black lab named Kona. And every single one of them is ready to sign up for the next adventure.