For the past few years our team at REACH has participated in one of our peak career activities – bringing electric vehicles (EVs) to the St. Louis Auto Show in partnership with Ameren Missouri and Ameren Illinois. The work has evolved over time, but this past year was different. We were able to deliver EV test rides inside The Dome at America's Center – former home of the St. Louis Rams. For three days, hundreds of auto show attendees were treated to EV rides offered by a team of professional drivers. I had the chance to be one of those drivers.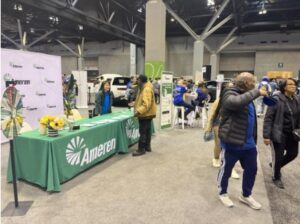 But I didn't get to drive any EV. Granted, we had a number of excellent options: the Kia EV6, Tesla Model X, Ford Mustang Mach-E, VW ID.4, and the Porsche Taycan. But my test drive vehicle over those days was the Ford F-150 Lightning, the all-electric version of the Ford F-150 pickup truck that was unveiled in May 2021. Of course, the Ford F-150 is the best selling vehicle in America. And we had the chance to introduce the new electric version to folks in St. Louis.
Pickups are important all over America, but perhaps especially so in the Midwest. Missouri is the per capita leader in pickup use in the country. As a native Midwestern, I can attest that these vehicle choices make sense. Midwesterners need reliable, dependable vehicles that can stretch across a variety of jobs without risk of breaking down. Pickups generally, and the Ford F-150 specifically, have met that mark for years.
The Ford F-150 Lightning delivers on that need. And then some. It comes with impressive performance specs, such as a 0-60 mph time in the mid-4-second range and a range of up to 300 miles on a single charge. The model and specifications of the vehicle I had the chance to drive for three days comfortably seated five passengers and could as easily be driven across the country as it could be taken to any contractor job site.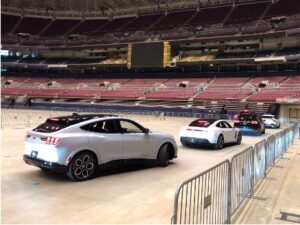 The St. Louis Auto Show is an annual event that showcases the latest and greatest vehicles from various automakers. Attendees can get up close and personal with the cars, trucks, and SUVs on display, and even test drive some of them. For our group, passengers were treated to a test drive loop inside the St. Louis dome that allowed us to demonstrate the quick vehicle acceleration, performance, and handling that EVs offer. We could do this work inside because…EVs produce no tailpipe emissions! This was an exciting first-time EV ride-along for many of the participants.
Our participants likely were among the most diverse of any test drive event we have ever conducted. Passengers represented every age, race, income level, and political sensibility. We served folks who identified themselves with visible and invisible disabilities. The depth and breadth of America's vast diversity were on display in the heartland.
In fact, there might have been only one common theme among all of those many and diverse event attendees – they absolutely relished being in the Ford F-150 Lightning. From the head snapping torque the vehicle delivered in accelerating from a standing stop to its incredible handling, all of the participants in my vehicle were treated to a 3-5 minute EV ride along that felt more like a thrill ride. I spent days hearing audible gasps, claps and wows, wonderment, enthusiasm, and gratitude for the chance to test out these new vehicles. EVs are in great demand and can be hard to come by. Our event at the Auto Show helped bridge an experience gap for thousands of people who otherwise wouldn't have had the opportunity to experience the Ford F-150 Lightning.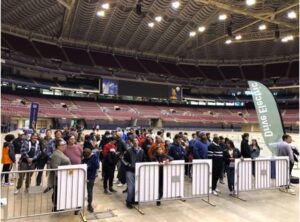 Many folks today say America is divided. After days spent with a vast array of people, from all walks and persuasions, in St. Louis, I'm not so sure. I think we need more common experiences where we can share our excitement, wonder, and enthusiasm for what we can accomplish together. And I rediscovered over three days at the St. Louis Auto Show that EVs – and the Ford F-150 Lightning – can deliver those kinds of experiences. 
Our heartfelt gratitude to the hundreds of participants at the event, to Ameren Missouri and Ameren Illinois, the Missouri Auto Dealers Association and the St. Louis Auto Dealers Association, and Dave Sinclair Ford and Jim Butler Auto Group for helping us make that possible.