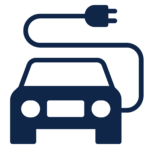 Automotive companies are delivering on their promises with developing EVs, announcing more models, and consistently improving their technology! Ford announced that their F-150 Lightning is their most powerful pick-up for a good reason: it also doubles as a generator and bi-directional charger that can charge EVs at a level two speed, but more importantly, can act as a generator to power your home in a storm or outage for days! GM also announced they are on track to manufacture almost half a million EVs by the end of the year, as markets predict EVs will continue to trend up for the 2024 explosion. Fiat threw its hat in the ring with the announcement of the "Panda" that is slated to be the most affordable EV yet!
But that's not all. Are you a traveler, but prefer to vacation in the comfort of your vehicle? Do you like camping via RV? What about the classic Airstream trailer? Recently, at an RV SuperShow, the E-Winnebago and E-Airstream were announced that are primed with a plethora of smart features to go with these vehicles. Camping just got an upgrade!
As always, let us know your thoughts! Talk to us @REACHStrategies!
Model Updates and New EVs on the Horizon!
Electric Motor Machinery: Scooters, Boats, Other types of vehicles.