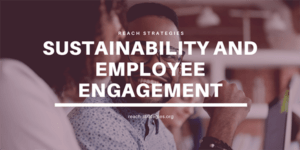 For many companies and organizations, creating a sustainability policy is often merely the first step on a much longer journey. While many companies recognize the need to reduce their carbon footprint and are willing to work toward that goal, a key implementation step can include engaging employees at every level. Employee engagement on sustainability can boost chances of success for the stated goals and in some cases support other organization-wide objectives.*
Sustainability and social responsibility are nested in a value set that spans age and demographic groups. Studies have shown that millennial workers, among others, assign a high priority to working for a company that aligns with their values. Companies that prioritize sustainability initiatives can reduce their carbon footprint and advance initiatives that help attract and keep top talent. Deepening engagement on sustainability also can help increase job satisfaction – another win for productivity and purpose at work.
Engaging With Employee Values

Google searches reveal that sustainability is top of mind for many workers as people adapt to the ongoing pandemic. Reduced transportation and the reduction in travel in favor of virtual meetings are helping clear skies and offering a rare chance for employees to slow down and consider broader sustainability choices related to home and work life..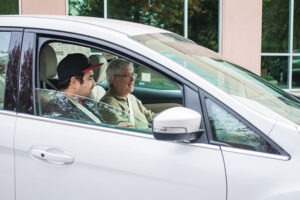 Many employees may be finding they have more time to dedicate to their own sustainability goals while working from home. This presents a great opportunity for companies to tap into what their workforce cares about during a time when they may feel down and are adjusting to the "new normal."
In our past sustainability engagement work, we've discovered that employees:
Value the opportunity to see what the company is doing within their local community,

Like learning about the ways their fellow employees are making strides towards sustainable outcomes in professional and personal settings,

Enjoy the opportunity to experience sustainable products firsthand, 

Long for even more practical instruction on how they can make changes within their own environments and home.
At REACH Strategies, one of our most effective strategies is developing opportunities for employees to interact and engage on specific sustainability topics of interest to them. For example, many employees are curious about electric vehicles and providing them an opportunity to drive one in an environment free of sales pressure increases their likelihood to drive electric. We've been fortunate being able to confirm this proof point across campaigns in almost every US state, including those we've conducted with utilities in states with very low EV adoption rates. For one campaign, background adoption in the broader market was lower than 1%, yet after the test drive over 80% of participants said they were more likely to purchase or lease an EV after having the experience. 
Hosting sustainability fairs that put employees in direct contact with sustainable products they can use in their everyday lives is another effective way to spur positive action. At one of our sustainability lifestyle fairs for a leading tech company in 2018, the number of participants who said they would consider sustainability when making purchases jumped from 52% before the event to 93% afterward. And while COVID-19 has limited the physical events we've helped our partners stage around their sustainability initiatives in the past, we've been thrilled to brainstorm new and creative ways to continue this important work online through a series of virtual events and engagement activities in a virtual environment.
The Power of Community at Work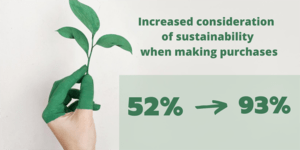 Events (both virtual and physical) offer the possibility of not only engaging employees but also creating moments of community and action in the workplace. 
At REACH, we always enjoy watching employees discover a full line up of electric vehicles for the first time or interact with sustainability in a way that is meaningful for them be it through kids' toys, clothing, or cool tech.  Employees frequently share their experiences with coworkers and this has a compound effect. They also start paying attention to the cues their company is setting. For example, when a company offers onsite charging, it reaffirms its commitment to sustainability and helps many employees consider making the transition to electric vehicles themselves. 
It may feel like COVID-19 has thrown the brakes on many of these activities, yet we're seeing that a new world of virtual and in-person engagements awaits. It's important for companies to rethink how they can communicate their values on sustainability and engage their employees across both arenas. 
We've been developing new solutions that allow for deeper levels of employee engagement on these topics during these times. We can all take an active part in creating a new more positive "normal" during even these difficult times. A normal that allows children to go to school on buses that don't pollute the air they breathe. Where individuals feel empowered to take actionable steps towards a sustainable future. We believe this is no time to pause. This is a time to act.  
Additional Reading: